In 2022, the trend of using indoors tv outdoor is booming, and most people want to spend their time outside while enjoying nature. Unfortunately, outdoor TVs are expensive because they have some added elements to cater to the harsh outdoor conditions.
The alternative is to find the best indoor tv for outdoor use and pack it in an enclosure to protect it from the harm of the outside environment. So, considering the issue and price, we've compiled a list of the top 6 indoor TVs to use outdoor.
Here are our top 3 picks for the best indoor TVs for outdoor use!
1- Best Overall TV: LG OLED C1 Series 65″
2- Best budget TV: Insignia 65-inch Class F30 Series
3-Best luxury TV: SAMSUNG 82-inch Class QLED Q70T Series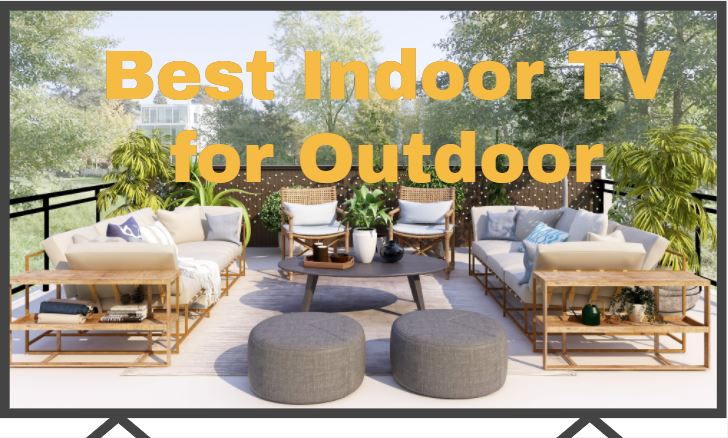 But before doing that, we suggest you follow the safety guides and use them in a protected environment. Especially keep them aside from direct sunlight and rainy weather.
These TVs are being chosen to ensure that they've excellent reflection handling and are bright enough to give you a visible screen in the daytime. We tested them under the latest test lab and brought them to you. So, you can choose any of them for outdoor use.
You might have a question that can I use indoor TVs outdoor? Here is a complete article dealing with this question.
Key Factors for Buying Best Indoor TV for Outdoor use
Outside sitting in a tent or air, there is an ecosystem in the environment, so you won't be able to listen to a perfect sound, that's why only a TV with a great soundbar can be the right choice to listen the quality sound. Similarly, sitting under the sun requires a tv with good brightness and colorful features. So you won't make any mistakes while selecting an indoor tv for an outdoor one, here are some crucial elements to consider when buying a tv.
Size
Whether you watch tv sitting in the backyard, screened-in-porch, or have a covered patio space, the size of the tv matters a lot.
I guess you won't like a tv that is too large for your space or look like a small canvas hanging on the wall. So, a tv of a perfect size can fulfill your needs.
The average size for indoor tv is 55 inches, which fits everywhere and looks good on the table. Hence, if you have a small space, a tv with 32-inch is a better option. Otherwise, the bigger, the better the picture display.
So, now it's totally up to you what you consider. But measuring your space for the perfect tv size is better than worrying later.
Smart tv technology
If you want to take advantage of a PC monitor, mobile, and tv at once, then smart tv technology is worth considering the point. Having a smart tv make you able to control it with voice using Alexa or google assistant built-in. It means you can save your time finding a remote to change channels. Moreover, you can control your tv with mobile phone apps.
Budget
You might be thinking that a budget tv doesn't have the feature that an expensive tv has. If we talk about the size, it may be correct. But a tv with a budget ($500-$1000) is good enough to use for indoor and outside purposes. In addition, you can find a tv equipped with the latest technology features in this price range. So, if you have less budget, take relax. Because the above list of best indoor tv for outdoors has budget-friendly tv, check out that.
Sound matters a lot
For a person looking for a gaming tv for outdoor, sound has much importance because gamers can use the best headphones. In contrast, looking for normal tv for outdoor sound matters a lot. So considering the sound intensity is a plus point for a better listening experience.
Picture, colors, and brightness quality
Almost all the features can be compromised, but a tv with low picture quality is compromisable. But, especially when it comes to outdoor use, it becomes meaningful. Inside, you can manage lighting to get better picture quality. But watching under the sun can be not easy. So, a tv with fantastic picture quality, brightness, and colorful features is one of the best picks in life.
Also, check out the guide on the best TVs for bright rooms.
1. SAMSUNG 55-inch Class QLED
After the testing, we found that Samsung the Terrace is the best for outdoor use due to its weather-resistant durability and IP55 water resistance technology. In addition, the tv is designed with exceptional features to make it possible for outstanding results for both in-out use and overcome the outdoor glare.
Incredible bright handling
You won't watch movies day and night, but brightness is the issue for the day. That's where this TV doesn't let you experience down with the brightness reflection feature. So you can handle the brightness and wide color gamut to get a clear picture at any time.
You might also want to check the best TVs for bright rooms.
Sleek and compact design
The Samsung Terrace indoor TV has an excellent and thin shape so that you can adjust it anywhere. In addition, the robust structure of the TV will stand firm when you are taking it on the vehicle outside. But the only issue you might face, it doesn't come with a stand. But you can purchase the stand separately.
Wall-mounted
The Terrace tv supports the VESA 200 x 200 to mount it on the wall. The best thing you'd like about the TV is it's built with a metallic back and has a plastic panel on the bottom left side. The metallic structure shows that it's sturdy, while the plastic panel helps in dust restriction emitted in the inputs.
Points to consider
Overall, TV has all the aspects to take for outdoor use, but it still has some minor issues. Like, you might not be able to play games if it matters to you. Moreover, the screen gives a more detailed view from the front rather than watching it from other angles. Overall, perfect for home and outdoor use.
2. LG OLED55CXPUA Alexa
You might be worried that Samsung The Terrace TV doesn't have a gaming function, so how can you play games outside. Well, LG CX indoor tv got you covered with the gaming function, so you can enjoy gaming and watch movies with a large viewing angle. Overall the TV is excellent for outdoor with a 4K display and rich colors.
Flate screen with 4K resolution
The LG CX has a flat, narrow screen that feels like a premium display. However, the TV's screen is quite similar to the LG C9 OLED due to its sleek and compact design. Enjoy a VVR setup to watch 4k movies with clear image results.
Solid TV stand
The LG OLED CX is based on a solid flat stand (L36″ x L9.6″) that is adjustable. This means while using your tv outside, you don't have to worry about average heavy winds because the stand is firm enough to keep your tv stable.
Material
TV is manufactured with solid metal and textured plastic. The front screen border (0.9 cm) is metallic, and the above backside is also made of sturdy metal. The lower back of the tv is designed with textured plastic to make a secure connection for electric plugs. They keep the inputs free of dirt. A plastic cover is attached to cover them.
Wide view angles
The tv has wide angles so you can view it from sitting anywhere in the room or outside. The image presentation is accurate and clear from every angle.
Brightness and colors
Watch tv outside or at home; the most crucial factor that can make or break your watching experience is colors and brightness. Sitting inside may not affect brightness, but when you are outside, brightness matters a lot. But LG CX covers that all with massive color and brightness.
3. SAMSUNG 82-inch Class QLED Q70T Series
Brand: Samsung | Model: QLED 4K Q70 Series | Display: 4K, QLED | Screen size: 55 to 85 inches | connectivity: wireless, BT, USB, Ethernet, HDMI | Refresh rate: 120 Hz | Quantum Processor 4K
When outside, getting high-end upscaling and clear screen views are essential sublimates. The Samsung Q70T QLED is the latest technology built-in TV for various uses. The 4K screen won't let your enjoyment down, and you'll find it quite perfect for High graphics gaming.
Design
The Q70T TV is minimalist and comes with thin bezels and large feet. It looks attractive due to its excellent design.
HDR brightness
The HDR brightness of the tv is neither so good nor so poor. It comes with an average HDR peak brightness that doesn't change different content. If you are more concerned about screen colors and brightness, change Picture Mode settings to get the desired colors.
Structure and style
The tv is equipped with giant stands (55-inch stand: 40.3″ x 9.5″) that keep holding it anywhere at average wind pressure. Carrying it outside is not an issue, thanks to its sturdy material. In addition, the thin size (2.40″) of the tv makes it adjustable in a small space and looks beautiful on the wall or table.
Wall mount
The back of the Tv is made of durable plastic material that can mount your tv on the wall. You can adjust it in the room or outside your backyard, and the wall mount will stay stable.
View angles
Unlike LG CX, the Samsung Q70T does not have a great view angle from all sides. So if you have a small tv lounge, it can be a perfect choice, but not for a wide sitting arrangement. The tv has average quality VA panels that cause less image clarity from the edges. However, sitting in front has an amazing screen display.
4. LG OLED C1 Series 65" ( Overall Best Indoor Tv for Outdoor Use)
According to our assessment, LG C1 OLED TV is the best indoor tv for outdoor use.. The tv has a near-infinite contrast ratio that makes the picture quality truly sharp and stunning, which is a plus point if you watch movies and play games in a dark room. Moreover, you can use it as a PC monitor at home. Overall the tv shows all-around performance in all aspects, and you might not be able to find a tv with these features on a budget.
You may also want to check our buying guide on best 65-inch TVs under 1500.
Design
The LG C1 looks almost the same as LG CX OLED in design. The tv has a sleek and great front screen with a thin border (0.35") that looks awesome when you see it. It is equipped with a large stand that is thick and wide, but it keeps your tv stable on the table.
Material functions
The half bottom back is made of plastic material to keep you safe from shock while working with the inputs. At the same time, the upper back is designed with metal to keep it safe and firm all the time. The tv is a wall mount (VESA 300×200), but you have to remove the stand before you mount it.
SDR Brightness and Contrast
Although the tv has sharp and vivid color quality, you can face some issues in small bright areas. Like in an Ice hockey match, the colors can brighten the areas. But it's a rare case. Otherwise, you'll find it quite suitable for any place. Moreover, the color contrast with near-infinite ratio helps in clear HD display.
5. TCL 55-inch 6-Series 4K UHD
Brand: TCL | Model: 55R635 | Screen size: 50 inches | Resolution: 4K | Display technology: QLED | Refresh rate: 120 Hz | connectivity: USB, HDMI | Supported with Netflix, Skype, Hulu, Youtube, Spotify, Amz Instant Video
The TCL R635 is an amazing TV to watch movies in a dark place. Due to the great color contrast ratio, the display remains stable and eye-comfort. You can carry it outside anywhere with safety. Play games with 4K resolutions with sharp image quality. Unfortunately, the tv has narrow view-angles that make it a problem to watch from the sides.
Familiar design
The TCL R635 tv has a sleek and attractive design that looks good on the wall. The mainframe is made of plastic and metal, and the front screen looks like a glass hanging on the wall, giving it a premium feel.
Stand
The tv is large and needs more support to stay firm. That's the reason it has large and wide stand feet (42.1″ x 13.6″). The stand has moveable ability in 65-inch and 75-inch sizes, but a 55-inch tv does not have a movable stand.
Easy voice control
The TCL 6 series tv is manufactured with advanced voice control technology. The tv works perfectly with Amazon Alexa and Google Assistant to change your channels with your voice. Moreover, using Roku mobile app, you can control your tv with a mobile; no need to worry about the remote.
6. Insignia 65-inch Class F30 Series LED 4K
Insignia Class F30 tv is the cheapest tv on the list with some cool features. With the HDR-compatible 4K TV, watching movies and shows will give you extra enjoyment. Due to the low refresh rate, you might not enjoy the high graphic gaming, but finding a tv with all the advanced features is worth considering in this price range.
Front and back
The smart indoor tv for outdoor has a sleek design from both the front and backside. The thin border is made of plastic texture that safe the screen from dust.
Voice assistant
Carrying a remote is always an issue to watching tv, but thanks to the Alexa voice assistant, now you can change channels and search for any movies and tv shows with voice control.
Colors and brightness
Under the shelter, the color and brightness are enough to watch the tv, but under the sun, you might not be able to watch the tv screen. Moreover, you may feel a lack of a black blooming screen. To avoid this, don't let any light glow in front of the tv.
Final Thoughts
I hope now you have an idea of the best indoor tv for outdoor use. You've read about all the TVs on the list and got an idea about what matters a lot. In short, the most important factors to use outside are operating temperature, colorful image quality, sunlight exposure, material, price, contrast ratio, and size.
Still, if you are confused about what can fit your desire, here are the three suggestions to pick a final product.
1- Best Overall TV: LG OLED C1 Series 65″
2- Best budget TV: Insignia 65-inch Class F30 Series
3-Best luxury TV: SAMSUNG 82-inch Class QLED Q70T Series
Finally, these are the three recommended tv for three top reasons. Pick out one of them and make it used for outdoor and indoor.