Many people prefer watching TV in their bedroom because they find it more entertaining watching TV while lying on the bed with their partner. But, the question is where to put a TV in the bedroom?
Read this article to know 10+ really modern ideas for placement of TV in the bedroom. You will also learn crucial considerations while deciding the location of your TV to get the best experience.
Here is a quick solution to where to put a TV in the bedroom?
The best place is 3-to-5 feet away from the bed in front of your sitting place. It's because if your TV has narrow view angels you can still watch it clearly. Moreover, you'll feel more comfortable and relaxed whether sitting or lying on the bed. Some other places in the bedroom to put a TV are, a TV cabinet, right across from the bed, and a dressing table.
Further, the placement of the TV also depends on the size of the TV. In this blog post, I'll discuss some good places to put your TV that can make your watching experience more relaxing in a bedroom. 
Where To Put TV in Bedroom?
The placement of the TV depends on multiple factors that are involved in the clear screen display. And, you won't like to put yourself in trouble while watching TV. So, considering that I compiled a list of some notable facts that you have to follow and keep in mind when you put a tv in the bedroom.
Space in The Bedroom
The bedroom space is a crucial factor that you need to consider when placing your TV. A large TV in a small room can create problems in the adjustment, while a small TV won't give you a premium look.
The best option is, to take measurements of your TV and the places where you want to fit that. Suppose you want to fix your TV on a dresser but it has less counter space it can be a risky place there. In that case, in a small room, a wall mount will help you better put your TV.
Especially you won't like to put your eyes in trouble. If your bedroom has a small size insure that the TV is at least 3-5 feet away from your watching place. Otherwise, sooner or later, the screen display can be harmful to your eyes.
Prioritize Your Comfort
When bought a new TV, you might be excited just to hang it anywhere in the room. Or you may be thinking about where it looks better. Your thinking is not bad, but it's all about your comfort. In excitement, you can place your TV on a dresser that is not appropriate according to your bed and your watching location. Soon, you'll feel that it's annoying. Then again you've to change your location.
TV shapes are premium and they look pretty awesome at any place in the bedroom where you place them. So, you don't have to worry about whether a TV will look attractive in the cabinet, wall, or on the dresser. Just understand your comfy place from where you can watch clear image display.
11 Best Places To Put a TV in a Bedroom
1. Place on Dresser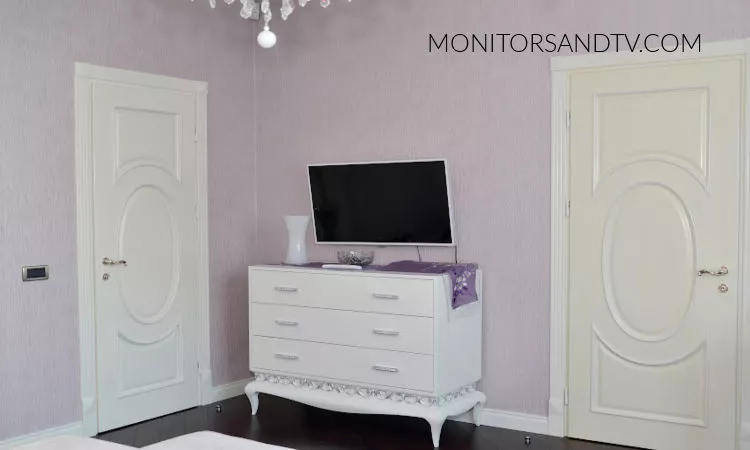 The dresser furniture is an essential item that adds an attractive feel to any bedroom. You might have one in your bedroom. If the location of the dresser is in front of your bedroom then there is no better place than this.
Remove extra items that can put TV life at risk, and place your TV on the top of the dresser. Just make sure that the TV has large feet/stand that is firm enough to withstand.
Important Note
Dressers have different sizes that come in small and taller sizes. The size of the dresser can impact view angles which might not be suitable for too bright or dark scenes. To avoid any bad experience, ensure that the dresser size is just according to your eye level.
2. Mount on Wall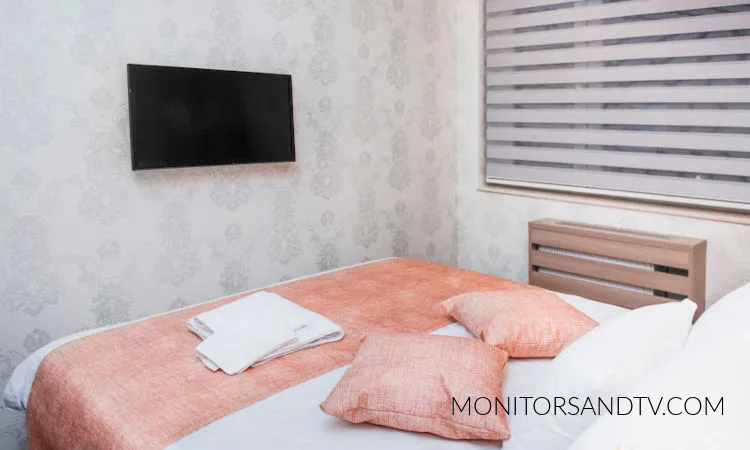 Suppose, your room has small size, then there is no best way to place your TV on the wall. All latest TVs come with mounting brackets that are easy to mount on the wall. If your TV has no mounting brackets then you can purchase them separately.
To hang the TV on a wall does not require any rocket science. But the main issue is where to mount the TV. Well, there are specifically two best options to place your TV with mounting. First, you can hang the TV on the food side of the bed or just right across the bed where you feel comfortable.
Important Note
While hanging the TV in the bedroom, make sure there is no light in the opposite direction of the TV otherwise you might face the reflection of light and other elements in front of the TV. The best option is to buy a TV that is best for bright rooms which have high brightness and good reflection handling. So that the reflection issue doesn't irritate you.
3. Inside a Cabinet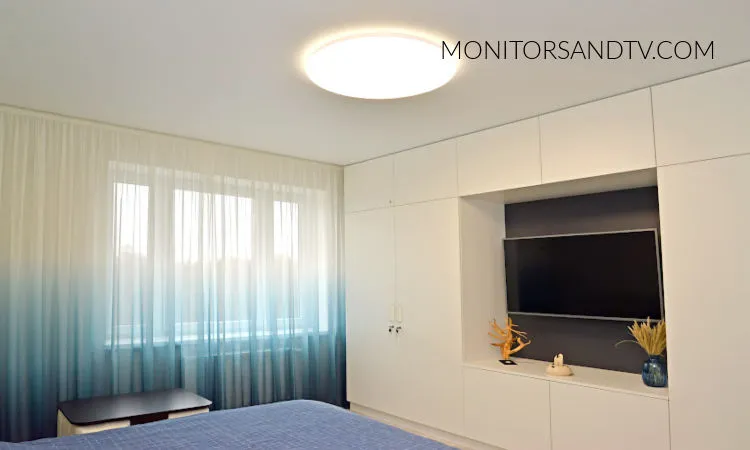 If you have kids or pets at home, you won't like to place your TV without any protection. For that, the best option is to put your TV inside a cabinet that has sufficient height to watch the TV clearly. Inside the cabinet TV cords will be hidden so there are fewer chances of electric shock as well.
A closed and perfect cabinet will keep your TV hidden and safe from dust particles, which means your TV will last long. At the same time, if you're creative, you can design your TV cabinet that will create a premium look in the bedroom at the same time you can access your TV effortlessly.
4. Tuck Your TV into a Nook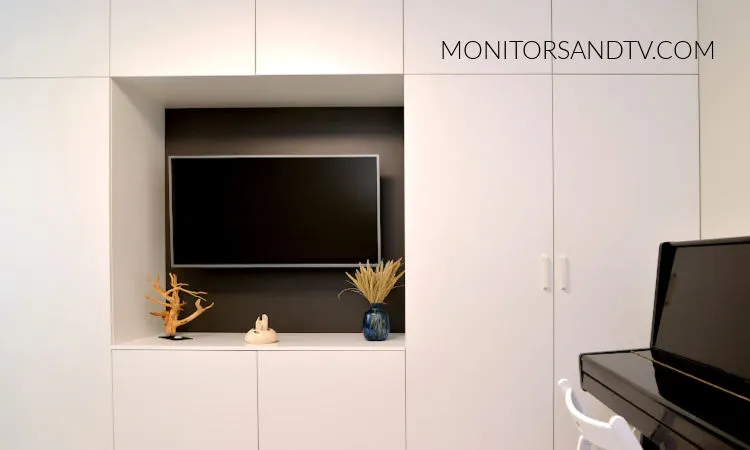 Don't find the above methods suitable for placing your TV, then place it into a nook. The option is great for small apartments that have complicated architectural details. Not only does it give a cute look to your room, but also placing the TV in a nook occupies less space in your room.
5. Incorporate TV on Wall Gallery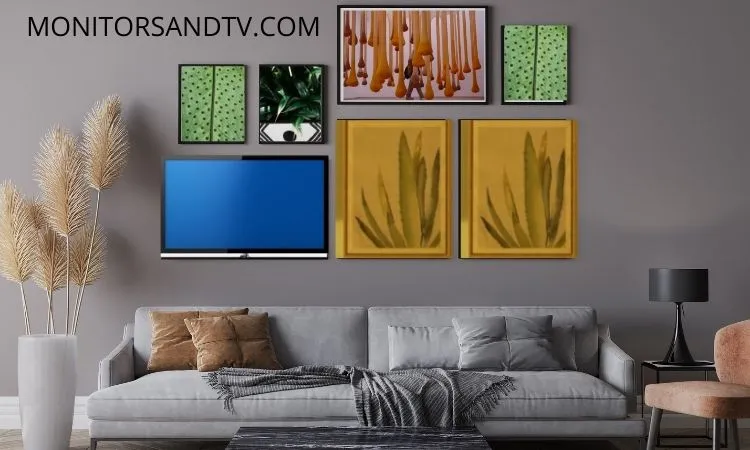 You might be an innovative and idea-generating person who is always curious to do something new. Suppose you have an art collection in the bedroom or you might be thinking to do so in the future, then it will create a fantastic look if you place your TV in the wall gallery.
If looking for a glance in the bedroom, so your guest can admire and appreciate your efforts; this is the best way to put a TV in the bedroom. This idea might cost you more if you don't have already a wall gallery, but if you try to make one it is worth the price and decoration.
6-TV In Front of a Window in the Bedroom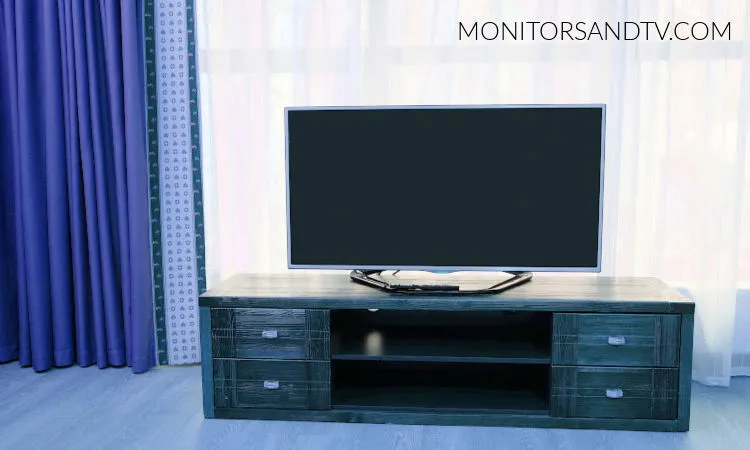 People often ask "Can I Put TV In Front of a Window in the Bedroom?". Here is the answer.
If possible to change the location rather than placing the front of the window, I would suggest changing the location. Due to the direct light, your TV might look dim and get a reflection or glare on the screen.
If you can't change the location, I would suggest you need to buy the best tv for bright rooms. These TVs can get very bright and have great reflection handling pr glare. This way you can get the best experience despite the ambiance of light.
However, it's also not a good idea to place your TV ahead of the window. Because you'd definitely like to stand in front of a window to look outside. Further, placing a TV in front of the window will block sunlight directly from entering the window. And it might be not good for TV material to face the sunlight directly, as the temperature of the TV can increase which can cause any malfunctioning in the TV.
7- TV in Master Bedroom?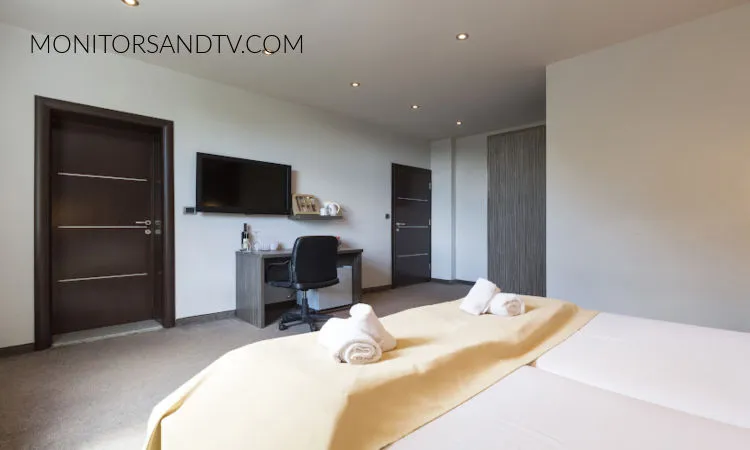 If you want to place your TV in the master bedroom and want to know where To Put TV in Master Bedroom, we've got you covered.
Depending on the layout of your bedroom and the specific furniture you have, the place can vary but for a master bedroom, it may make sense to put the TV on a dresser or chests of drawers against one wall. This way, you can still watch TV in bed but have storage nearby for things like remote control, blankets, and pillows.
8-TV in Small Bedroom?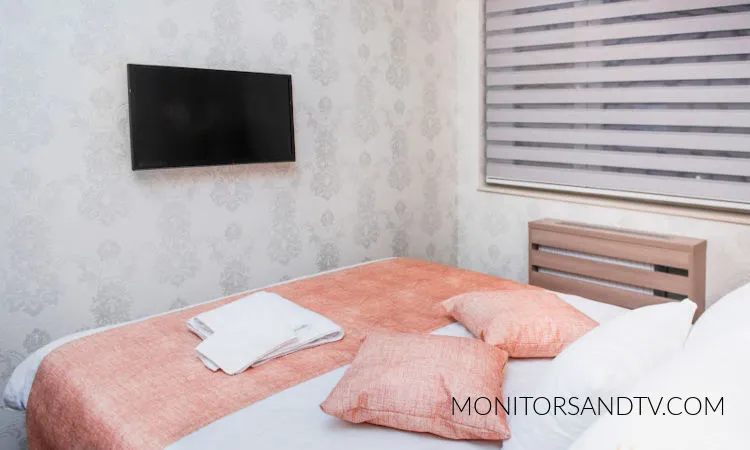 If your bedroom is of small size, you might be wondering where to put a TV in a small bedroom? Here is the short answer.
In a smaller room, you can place the TV on a wall, dresser, wall nook, or TV cabinet. The only thing you have to ensure in the small bedroom is, to place your TV in a sufficient place where you can watch TV easily still, with no screening effect on your eyes.
9-TV in Bedroom With Lots of Windows?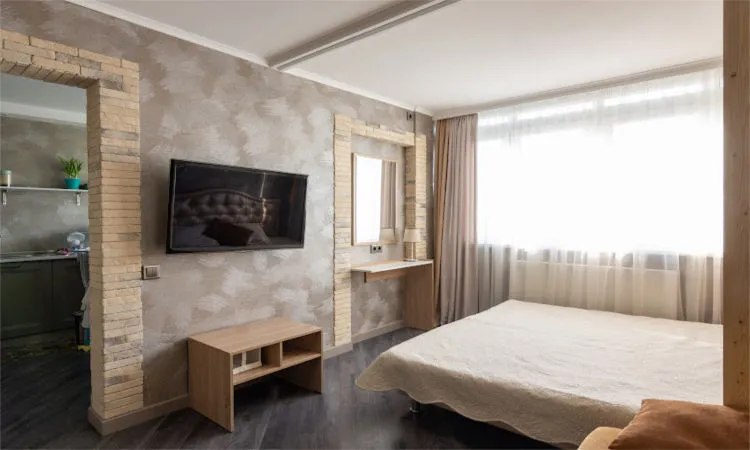 Let's answer where To Put the TV in a Bedroom With Lots of Windows?
The amount of light coming in from the windows can be a factor, as too much glare on the screen can be annoying. You'll also want to make sure that the TV isn't too close to the windows, as that can cause reflections. The best place for your TV might be on a wall opposite the windows, or even in a corner of the room where there's less light.
10-TV in Guest Bedroom?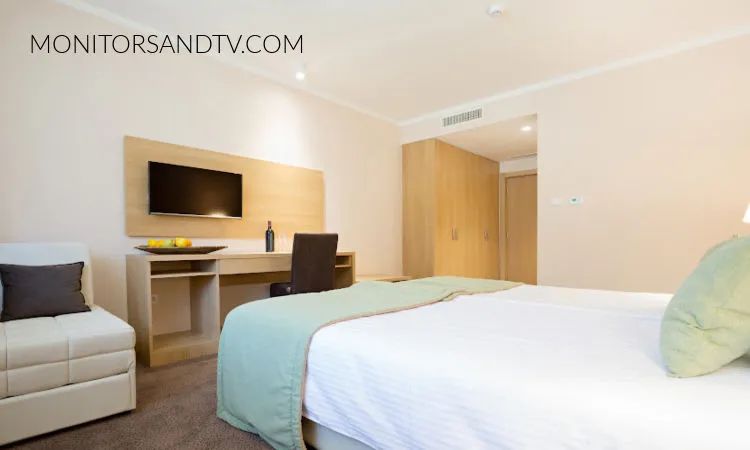 Here are some cool ideas for tv placement in the guest bedroom.
The best place to put a TV in a guest bedroom is on a dresser or shelf. If you have a small guest bedroom, you may want to put the TV on the wall. You can also use a mounted TV stand that will raise the TV higher and give your guests more viewing options. Whatever option you choose, make sure that the cords are hidden away so that your guests don't trip over them.
11-TV in Attic Bedroom?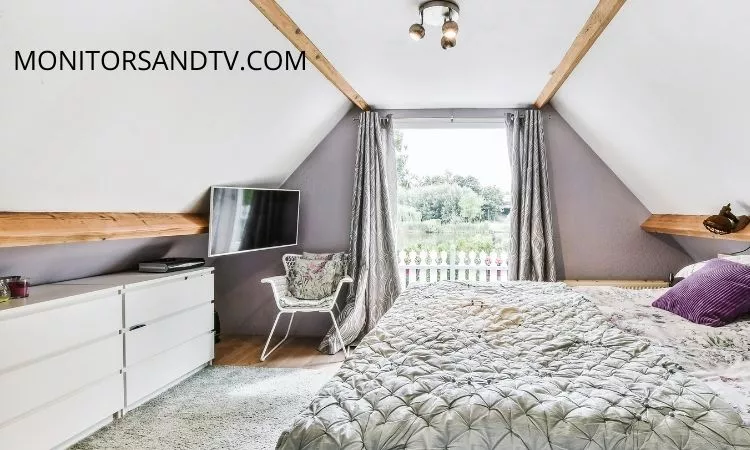 Where To Put TV in Attic Bedroom?
It really depends on the layout of your attic bedroom and how you want the space to function. If you're looking for a cozy spot to curl up and watch TV, then placing the television near the window might be a good option. You could also put it in a corner or alcove if you want to create a more intimate setting.
Suppose, you have a larger attic bedroom and are wanting to use it more as a lounge or entertainment space, then putting the TV in the center of the room might make more sense. Just be sure to leave enough space around the TV so that viewers can sit comfortably and watch from different angles.
Conclusion
I believe that now you have an idea where to put TV in bedroom. Still, if you feel that I couldn't find a comfortable place then I would recommend changing the location of your bed or watching place. Sometimes, it's not about TV location the reason behind the bad experience can be, that you might be not watching TV from the right place.
Finally, it's the decision of the couple where you find it suitable to place your TV. If couldn't find the best place, try placing it in an area where each of you will be likely to watch TV together. And if all else fails, try other ways that make you happy to adjust the TV in the bedroom.