If you love the Sony TV products due to their tremendous quality and results, but want to know do Sony smart TVs have Bluetooth compatibility? We have got you covered. We have done thorough research on several Sony smart TV models to give you a credible answer. 
All the Sony smart TVs which are manufactured in 2017 or after 2017 have built-in Bluetooth features. But all the Sony Smart TV models that are before 2017 are not Bluetooth compatible. 
So you should not blindly pick any of the models from the Sony TVs, assuming that it has Bluetooth compatibility. You can also check our list of best smart TVs with Bluetooth features.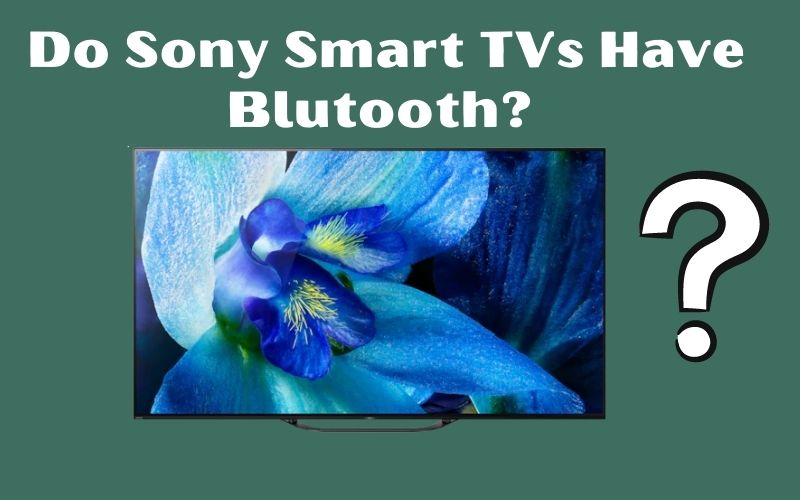 How to Check Whether Do Sony Smart TVs Have Bluetooth
If you want to buy a Sony smart TV or you already have Sony TV, then there are a few appropriate methods to verify your product's Bluetooth compatibility.
The very first and a short tricky method is your Sony smart TVs manufacturing date. If your Sony smart TVs were manufactured in 2017 or later then they definitely it has built-in Bluetooth compatibility. But if your product is from the era before 2017 then it will not have Bluetooth.
You can verify the Sony smart Tv's Bluetooth compatibility from Google as well. You can just visit the Sony website to verify the product specification easily.
There is another way to go to the menu and then set options on your Sony smart tv. Then check the setting options for Bluetooth verification.
You can read the user's manual for the Sony smart TV for seeking help in checking the Bluetooth compatibility of the Sony smart TV.
You might also want to check the best 65-inch TVs under 1500 dollars.
How to Make a Useable Connection with Sony Smart TV through Bluetooth?
There are multiple options that are usually available for connecting external devices to the Smart TV. But the most efficient and result-oriented is connection by wireless means. The use of Bluetooth is the most authentic and comprehensive way of connecting devices wireless way.
There are a few steps that you have to follow for making a feasible wireless connection between your Sony smart TV and external device.
Step 1: first you have to click on the menu button from the remote controller or the menu button on the Sony smart TV.
Step 2: Then you have to click on the setting options. After that just click on the Bluetooth setting or Sound setting option from the menu.
Step 3: In the Bluetooth setting option, click on the "enable Bluetooth for pairing" option.
Step 4: One thing that you must ensure is that your external device is in pairing mode. Then search the desired external device and click on it to add it.
Step 5: The device will be connected in a few seconds if you have followed the process accordingly.
Range of Sony Smart TVs Bluetooth.
Bluetooth connection takes place in a certain range. You can't connect a device wirelessly through the Bluetooth feature if your desired device is not placed in the range of a Sony smart TV.
The Bluetooth range of smart devices is categorized in three ways.
| | | |
| --- | --- | --- |
| Category | Power | Range |
| Class 1 | 100mW | 90 feet |
| Class 2 | 2.5mW | 30 feet |
| Class 3 | 1mW | 3 feet |
Sony smart TV also has the mid-class of Bluetooth range of around 30ft. If you placed your desired device at a distance of 30 ft or less then you could be able to make a useable wireless connection through Bluetooth.
If you have a sunny room, you might be interested to check our guide on the best TVs for bright rooms.
List of Initial Models from Sony with Bluetooth Compatibility.
Sony TV manufacturer started their journey of adding Bluetooth feature in smart TVs in 2017. A list of the initial models of Sony which were equipped with Bluetooth aspects is given below.
SONY XBR A1E
SONY X850E
SONY X900E
SONY X930E
SONY X940E
SONY X950E
List of the Suitable Models from Sony with Bluetooth Compatibility.
| | | |
| --- | --- | --- |
| Model | Bluetooth | Price |
| SONY X80J | YES | Check price |
| SONY X85J | YES | Check price |
| SONY A80J | YES | Check price |
| SONY A90J | YES | Check price |
| SONY X90J | YES | Check price |
| SONY X950H | YES | Check price |
| SONY KD43X80J | YES | Check price |
| SONY X95J | YES | Check price |
| SONY Z9J | YES | Check price |
| SONY XR75X90J | YES | Check price |
| SONY A9S | YES | Check price |
| SONY A8F | YES | Check price |
| SONY X780F | YES | Check price |
| SONY X830F | YES | Check price |
| SONY X850F | YES | Check price |
| SONY X900F | YES | Check price |
| SONY Z9F | YES | Check price |
| SONY Z8H | YES | Check price |
| SONY A8H | YES | Check price |
List of Sony Smart TVs without Bluetooth Compatibility.
To answer your question do Sony smart tvs have bluetooth, we analyzed all the Sony Smart models. We found these popular model that don't have bluetooth.
Sony BX420
Sony BX330
Sony EX430
Sony EX645
Sony EX720
Sony EX550
What to Do with Older Sony Models to Make them Bluetooth Compatible.
If you have an older model of Sony TVs or you just bought it by mistake, you still want to make it Bluetooth compatible. Then you have to buy an external Bluetooth transmitter to connect to the Sony TV port for making it Bluetooth compatible.
Conclusion
Sony TVs are famous for their quality products in the electronics industry but don't try to pick any of the product blindly. We have considered several products of Sony to answer 'do Sony smart TVs have bluetooth compatibiity'. We have found that all models that were released in 2017 or beyond have builtin bluetooth functionality but older models don't have. We also made a suitable list of products with Bluetooth compatiblity.
You can choose any of them with other important and necessary features. You will feel comfortable with the above-given list while choosing a Sony product with Bluetooth compatibility.