Smart TVs have tons of features but few features such as Bluetooth are essential. If you want to know do all smart Tvs have Bluetooth capability? We have got you covered.
I have analyzed 100+ smart TVs of various brands to answer the Bluetooth compatibility question.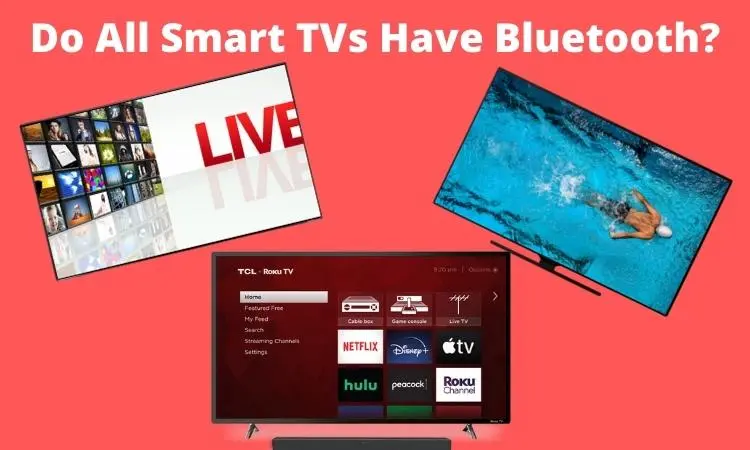 Here is the Answer t "Do All Smart TVs Have Bluetooth"?
So do all smart TVs have Bluetooth? Yes, almost all smart TVs come with the built-in Bluetooth feature. A few years ago, some of them were not equipped with Bluetooth. But nowadays Bluetooth has become an integral part of every Smart TV brand.
Here you can learn more about the Bluetooth compatibility of various smart TVs brand and models.
As you will use the Smart TV for multipurpose so you are in die-hard need of the Bluetooth feature. You could not be able to use multiple important external gadgets without Bluetooth compatibility.
You do not want to face any kind of difficulty while using your Smart TV for allrounder activities. You want to make a smooth performing setup. So you want to use the Bluetooth feature in your Smart TV as an integrated part.
How to Know Does Your TV has Bluetooth?
You could not be able to use any function of the device without knowing its presence. You want to check the presence and compatibility of your Smart TV Bluetooth feature. So you can easily connect the desired external devices for feasible use.
There are some easy ways to check the Bluetooth capability of your Smart TV. which will be helpful for you to easily find the Bluetooth capabilities of your smart TV.
The first and most famous way nowadays is to take help from Google. You can just put the name and model number of your device into the search bar.
You will get all the specifications and smart features of that specific device. There you can easily find that whether your Smart TV model is equipped with Bluetooth or not.
There is another phenomenal trick to checking the Bluetooth of a Smart TV is the logo of Bluetooth on the outer packing of your Smart TV. If the outer packing box of your Smart TV has the printed logo of Bluetooth on it with other smart features logos then definitely it has the Bluetooth feature.
If you can see the sticker of Bluetooth icon or Bluetooth icon is integrated on the body of your Smart TV then it is obvious that your Smart TV is equipped with Bluetooth.
If your Smart TV has a Built-in feature of Bluetooth then its smart remote definitely has the Bluetooth logo on any of the buttons.
It is not an easy way to read the user's manual of your Smart TV and find the lists of Smart features from it. But you can take help from it too.
Just read the user's manual to find Bluetooth compatibility and know more about your Smart TV.
You can visit the settings option from the main menu of the Smart TV. There you can see the connectivity option. Just click on it and if your Smart TV has Bluetooth compatibility then you can reach the Bluetooth section easily.
How can the Bluetooth Feature Help you?
There are multiple advantages of using the Bluetooth feature of Smart TV. we are summarizing a few of them below.
There will be no mesh of wires around you when you will connect the external devices to your Smart TV via Bluetooth.
It will make a more efficient connection than a wire connection.
Bluetooth is an easily available feature in almost all devices.
Anyone can use it due to its too simple using method.
Using Bluetooth is an energy-efficient method of connecting devices.
You can connect any external device within the Bluetooth range of your Smart TV without using long wires.
If your room is too bright or sunny and your TV has glare, you might want to check our list of best TVs for bright rooms.
Procedure to Enable Bluetooth and Connect External Devices to Smart TVs.
When you want to connect any external device to the Smart TV, enabling its Bluetooth for that is a prerequisite. Every Smart TV has different steps to enable its Bluetooth and connect to external devices.
But there are certain steps that are useful for every device is described here.
Step 1: Open the main menu using the smart remote.
Step 2: Go to the settings.
Step 3: open wireless connectivity.
Step 4: Enable Bluetooth.
Step 5: Turn the external device into pairing mode.
Step 6: Search the name of the device and click on it.
You can successfully make a strong connection between Smart TV and an external device via Bluetooth by following these steps.
What you can do to Smart TVs without Bluetooth Compatibility.
Nowadays almost every Smart TV is equipped with Bluetooth. But few of them are partially compatible with Bluetooth or are not equipped with Bluetooth.
So you could not connect the desired devices to them via Bluetooth in the direction normal way. You can make them Bluetooth compatible by using any of the following methods.
You can use the transmitter, that is connected to the Smart TV to make it fully compatible with Bluetooth.
You can download and install the relevant Smart TV app to use the Bluetooth feature.
You may also want to check the luxury bigger screen TVs, we have reviews best 75-inch TVs under $1500.
List of devices that can be connected to Smart TVs via Bluetooth.
You have to work on your setup with several different devices. So you want to connect many of them via Bluetooth.
You can connect the following devices Via Bluetooth to the Smart TV.
Mobile phones
Laptops 
Keyboards
Mouse 
Soundbars 
Speakers 
Gaming controllers 
Playstations 
Headphones
Tablets 
List of Best Smart TVs with Bluetooth
We have analyzed hundreds of TV models from all popular brands. Then we compiled a list of the top 10 Best smart TVs with Bluetooth. Here are our top 3 picks. For the complete list click on the link.
Conclusion
Currently, almost every model of Smart TV is equipped with Bluetooth. You can easily enjoy the perks of this phenomenal feature.
You can make the partially Bluetooth-compatible TVs fully compatible by using a transmitter or a relevant smart app.